ABOUT A.K.K.
A.K.K. Engineering Sdn. Bhd. was founded by the late Mr. Ang Kan Kiong in year 1996 and we have been actively participating in Malaysia's construction business since then.
It is led by a group of experienced professionals with proven track record of excellent quality and service in this industry. Beside this, A.K.K. Engineering Sdn. Bhd. has an extensive partnership network to deliver construction and engineering solutions to its clients. We are registered as a G7 contractor with CIDB Malaysia and ISO 9001:2008 certified company. A.K.K. Engineering is also an authorised Pressure Vessel manufacturer in Malaysia licensed by ASME (American Society of Mechanical Engineers) and NB (National Board).  A.K.K. Engineering is also registered with JKKP (DOSH -Department of Safe and Health  Malaysia) as a competent pressure vessel manufacturing company. A.K.K. Engineering has been involved in palm oil, oleochemical, biofuel, oil and gas, chemical and other industries throughout the whole country. Since 2007, we have started our international venture by securing our first oversea job in Middle East, followed by several more jobs in Papua New Guinea. In recent years, we have successfully completed more than RM 250 millions of projects.
In 2015, A.K.K. Engineering set-up new subsidiaries in Borneo and Singapore to expand our business into new markets. We have also invested in construction material supply and logistic businesses to further develop ourselves into a highly competitive construction and engineering company.
A.K.K. Group is anticipated to continue growing steadily towards our company's vision in the coming years.




VISION
"To be the preferred service provider of our clients"
MISSION & PHILOSOPHY
We aim to exceed the expectation of our clients with quality products and services, yet remains price competitive.

We focus on effective collaboration and win-win solutions.

Our business philosophy is "Client First" and reflects our commitment to earn the lasting loyalty of our clients.
VALUE & CORE COMPETENCIES
Take the Extra Mile


Customer Excellence

Uncompromising Quality
Continuous Improvement

Safety and Environmental Conscious

On-time Delivery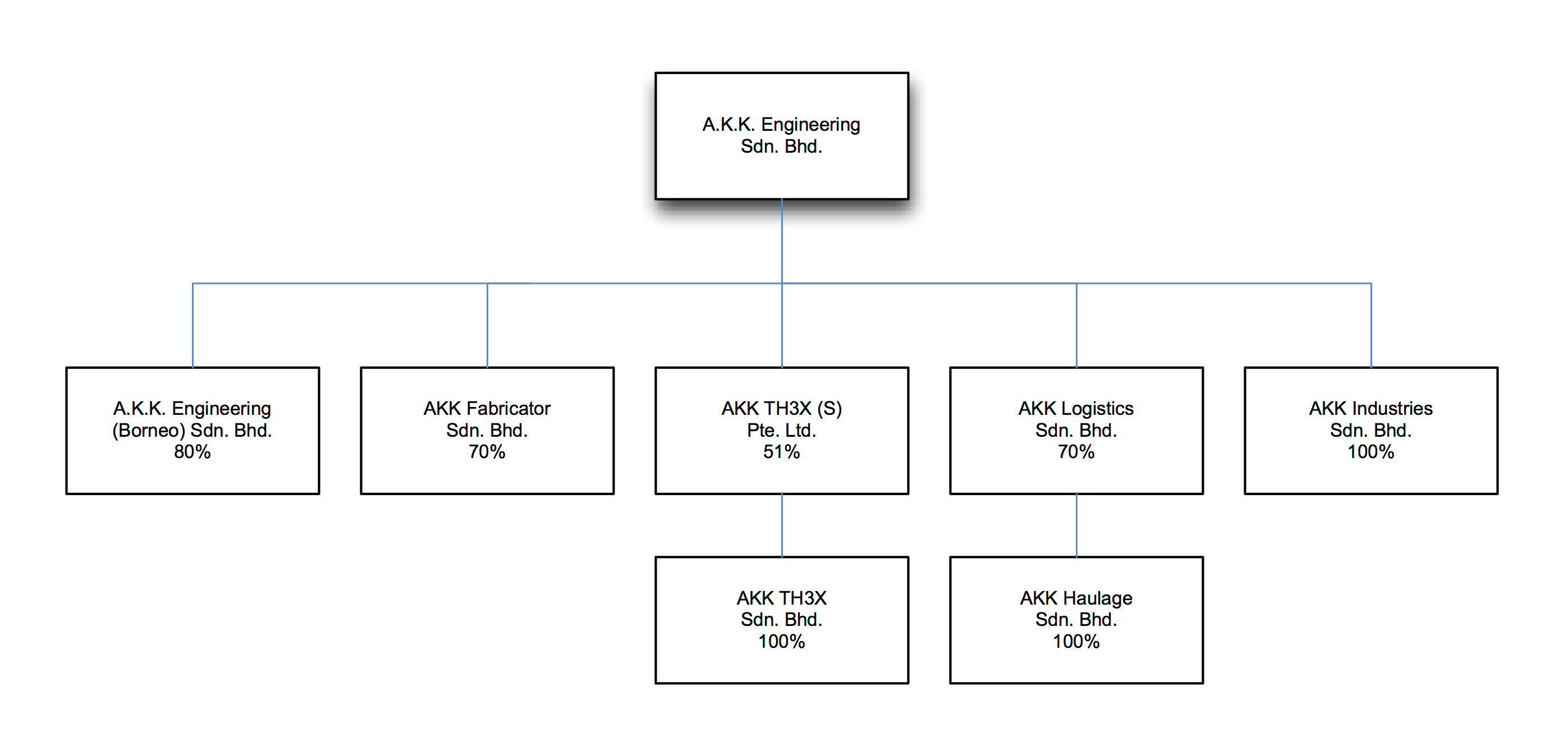 A.K.K. Engineering (Borneo) Sdn. Bhd.
Joint Venture Company in East Malaysia to tap into its fast developing industries.
A.K.K. Fabricator Sdn. Bhd.
Specialized in design and fabrication of pressure vessels, process equipments and process skids.
A.K.K. TH3X (S) Pte. Ltd.
Singapore subsidiary which is established to support fabrication activities of major contractors there.
A.K.K Industries Sdn. Bhd.
Trading of steels, pipes & fittings, valves, construction materials, tools, equipments etc.
A.K.K. Logistics Sdn. Bhd.
Logistic service provider of forwarding, custom clearance, ocean freight, haulage and other services.
A.K.K. Haulage Sdn. Bhd.
Service provider of haulage and other land transportation services